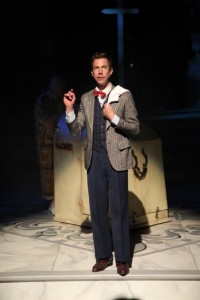 At Bard on the Beach until September 14
604-739-0559/bardonthebeach.org

Posted on June 27, 2013
If this review reads like an ode to actor Jonathon Young, that's what it is. Young plays Feste, the Fool, in director Dennis Garnhum's early 1900 take on Twelfth Night. Perhaps Young caught me in a vulnerable state of mind but his performance is so beautiful, so layered and comes from so deep inside the character that I was getting misty-eyed from the sheer loveliness of it. As Jennifer Lines, who plays beautiful, lovelorn Olivia, says, "Jonathon is a magic man."  You can hardly take your eyes off him when he's on stage and that's most of the time. His lanky body – which could be awkward with those gangly arms and legs – moves with the grace of a dancer. And somehow his smile seems ironic or sad; he tosses it out to the audience like a challenge: "You think this is lighthearted?"
As for the play. Twelfth Night is one of Shakespeare's mistaken identity plays: twins Viola and Sebastian have been lost at sea and each, presuming the other drowned, turn up (in this production) in a seaside hotel – the What You Will Hotel and Spa – in Illyria, circa 1913. Penniless and alone, Viola disguises herself as a boy and becomes the page to Duke Orsino. The Duke is in love with Olivia, owner of the hotel, but she is in mourning for her deceased brother and rebuffs him. Orsino sends Cesario to woo her on his behalf and, you guessed it, Olivia falls for Cesario – who is, of course, Viola.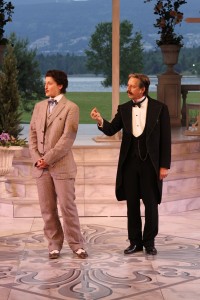 Embedded in all this foolishness is the sorry tale of Malvolio (Allan Zinyk), manager of the hotel for Olivia and a party-pooper of the first order. Several of the partyers –Toby Belch (Bill Dow), Aguecheek (Richard Newman) and a couple of the hotel employees – hatch a plot to make Malvolio look crazy in the hope that Olivia will fire him and they can party hearty. It's a really nasty part of the play that offers a wicked edge to an otherwise frivolous play. Zinyk brings his tremendous comic talent to the role with little jigs, flirtatious looks, batting eyes – all done with superb timing.
Director Garnhum plumbs the script for anything and everything feather-light; a directive in the play to "hold your peace" becomes an opportunity for all the young men to grab their groins (holding their 'pieces') and jackass around. And, although Benjamin Elliott's musical direction and arrangements are excellent, there are times when Twelfth Night begins to sound like Twelfth Night: The Musical.
Jennifer Lines is a bubbling-over Olivia who almost swoons with excitement when she falls for Cesario. When Olivia realizes that there are possibly two Cesarios (Sebastian and Viola look like identical twin boys), Lines leads you to believe Olivia is over the moon with the possibility that she might bed both of them – maybe at the same time.
Right out of London's Royal Academy of Dramatic Art, Rachel Cairns makes a fresh, enthusiastic debut at Bard in the role of Cesario/Viola. Cairns is young and her character's attraction to the Duke (sexy, charismatic Todd Thomson) is very puppy-ish; the match made by these two characters feels definitely May and September. And Olivia, who reveals herself as a caring person when the Malvolio prank is revealed, could do better than Sebastian (nicely rendered by Daniel Doheny). But that's the way the Bard wrote it.
The summery, wicker-filled set, lit by Gerald King, is by Pam Johnson. Costumes from baby blue gowns to black and white striped woolen 'bathing costumes' are by Nancy Bryant.
But it's Jonathon Young who steals this show. I'm almost afraid to see what he does with Hamlet, directed by Kim Collier. If Feste singing, "Hey ho, the wind and the rain" can bring tears to my eyes, I can only imagine what kind of wreck I'll be when Horatio, over the body of Hamlet, proclaims, "Good night, sweet Prince/And flights of angels sing thee to thy rest."