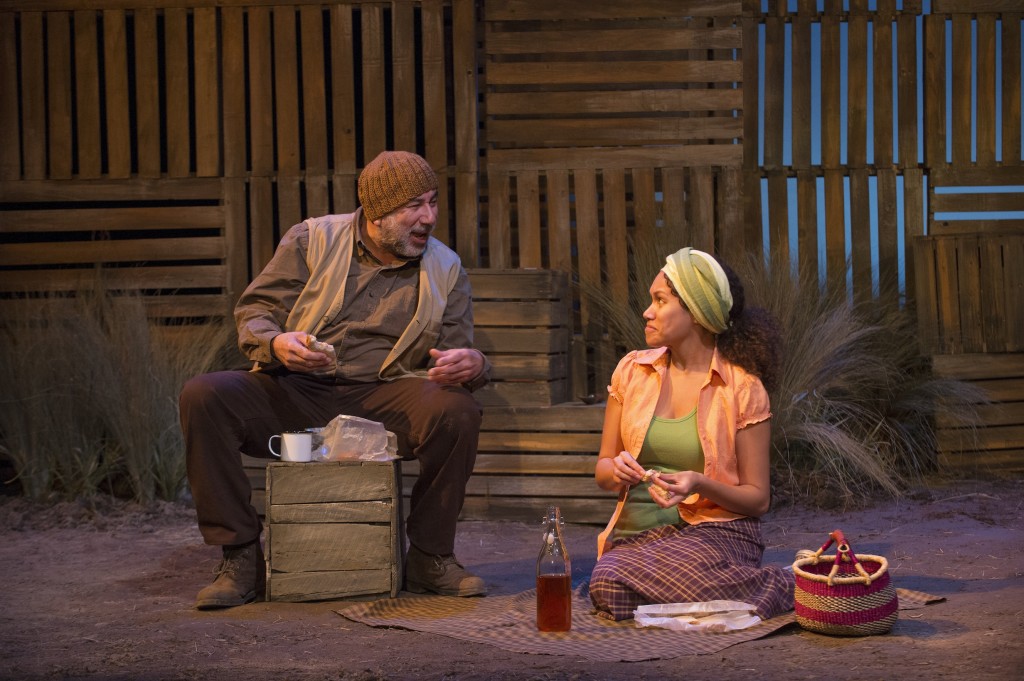 At Gateway Theatre until February 21, 2015
604-270-1812/gatewaytheatre.com
Posted February 9, 2015
The rich, earthy smell and feel of the land tilled by character Abraam "Buks" Jonkers is tangible in this Gateway Theatre production directed by the company's artistic director Jovanni Sy. Buks' "akkers" (acres or fields in Afrikaans) are dusty and dry for much of the year but when the rains come, the soil is suddenly fecund. The land is like a woman, says Buks: if you treat her well, she will treat you well. Seeds of Karoo pumpkins – a flat white gourd – are hastily planted and, as Buks explains to his seventeen-year-old granddaughter Veronica, one seed can produce a hundred pumpkins, a staple vegetable in the South African diet. Buks is a "coloured" man (the term South Africans use for a person of mixed race) who doesn't own the land but is a tenant farmer for his landowner "Master", a white man.
Drew Facey's set design – a dirt-covered stage backgrounded by walls of stacked, dark-stained wood pallets – and John Webber's glowing, warm lighting, take us to Buks' little shanty and tiny front yard in post-apartheid South Africa, a country on the cusp of great and often painful change.
While change is happening at the larger, political level, change is also happening to Buks on a very personal level: Veronica, whom he has raised since her mother abandoned her years ago, wants to leave the farm for Johannesburg and big city life. There is nothing for her here on the land her grandfather so deeply loves. Their relationship, warm and loving to this point, turns sour.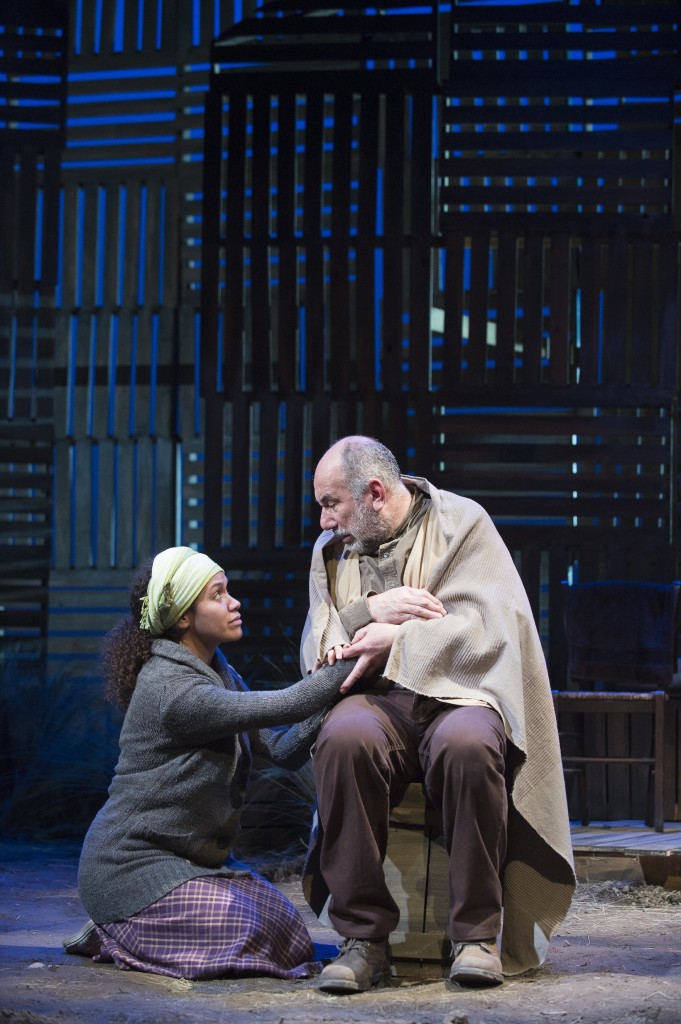 Valley Song is an uplifting play with David Adams in the role of the playwright Athol Fugard himself, as well as (with the addition of a woolly cap), Buks. But Adams is also – on occasion – Master. There is a little confusion here: Adams is mostly Buks, sometimes Fugard but also, on occasion, Master who, I'm assuming is not Fugard.
As a native of Cape Town, South Africa, Adams comes naturally to the distinctive South African accent. The rhythm of speech, plus the accent and frequent use of colourful Afrikaans words (with a glossary supplied) significantly adds to the authenticity of Fugard's script: words like pampoen (pumpkin), dwarrelwindjie (whirlwind) and bakkie (pickup truck). Best of all is a bastardization of Rigoletto's La Donna E Mobile mis-remembered by Buks as "Lae donder mobile/En soo moretsa".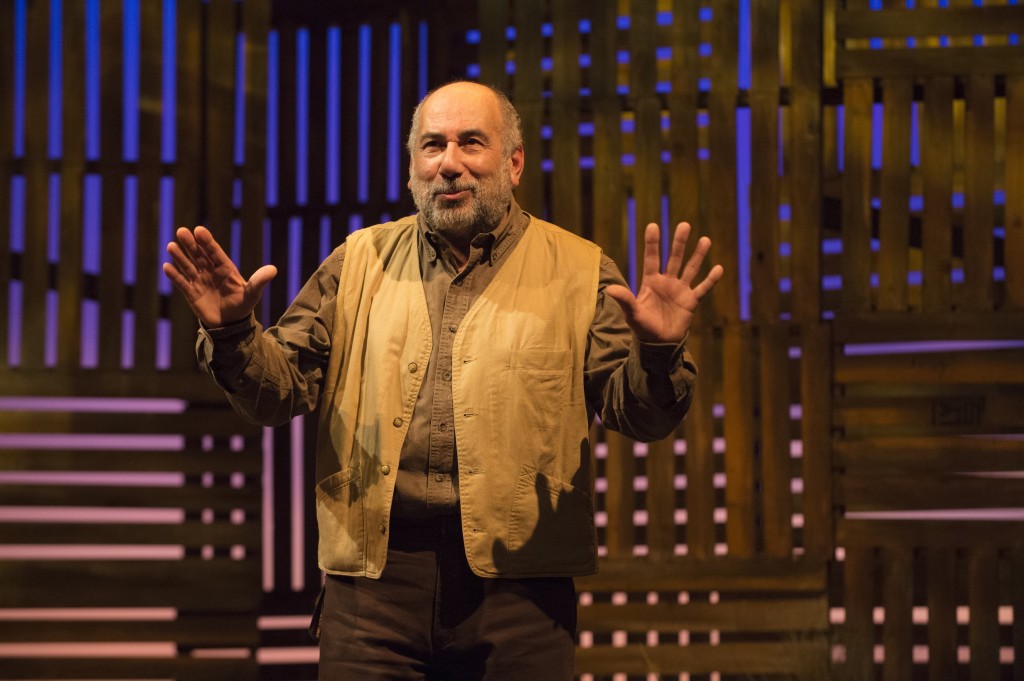 But more than Adams' proficiency with the language is his expansiveness and tremendous warmth, making Buks a loving grandfather who, nevertheless, begins to crack under pressure.
Veronica is portrayed by Fiji-born Sereana Malani, a vivacious, bubbly young actor with a clear, sweet soprano voice. In Valley Song, Veronica dreams of becoming a famous singer in Johannesburg so the role requires a young woman who can sing a cappella and convince us that Veronica's dream could come true. Otherwise, Veronica is doomed (as Master predicts) to ending up like all the other girls in the small village: barefoot with a baby on her back, foraging for sticks in the veldt. Veronica is adamant: this will not be her future.
It's a familiar story: the older generation, whose dreams didn't come true, cautioning – sometimes holding back – the eager young who dream big.
But resonating beyond the personal into the political, Valley Song becomes more than a repackaging of an old story. It parallels the growing pains South Africa is experiencing with apartheid in the past: old habits die hard. (Proud Buks, for example, becomes foolishly fawning and grovelling in the presence of the landowner.) Veronica must find the courage to leave and Buks must find the courage to let her go.
Beyond Buks and Veronica, beyond South Africa, Valley Song is a timeless, universal story heartwarmingly told in this handsome Gateway Theatre production.