At various locations until September 14, 2014
vancouverfringe.com
Posted September 9, 2014
The Zoo Story
Vancity Culture Lab at The Cultch
September 10, 13 and 14
It's astonishing how controversial The Zoo Story, written in 1958 by Edward Albee, remains today. It was his first play and fifty years later, Albee wrote a second act, re-titling the combined two acts, At Home at the Zoo. He now prohibits productions by professional companies of The Zoo Story by itself, defending this decision by saying the play is his to do whatever he wants. So this Fringe production, ably directed by Tanya Mathivanan, is non-professional but you'd never guess it. Tom Stevens is down and out Jerry, desperate for human connection; Scott Button is buttoned-down Peter, equally desperate to be left alone on a park bench to read in solitude – something he lacks at home with his wife, two kids, two cats and two parakeets. Together, the actors take this strange little one-act and turn it into a harrowing theatrical experience. Stevens combines loneliness and menace in a mixture that's just waiting to explode. What we don't expect is the latent rage that Peter finally lets loose. We may not be caged in a zoo, but we are, Albee suggests, all animals. Threaten our security, our complacency and just see where that goes.
Photo: Scott Button (left) and Tom Stevens. Credit: Javier Sotres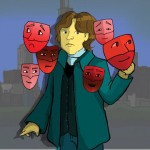 The Masks of Oscar Wilde
Revue Stage
September 12 and 14
Playwright Shaul Ezer had an interesting idea: since Wilde said he put all his genius into his life and only his talent into his work, why not write about Wilde's life? And why not frame it as a lecture delivered by an academic? Hmm. With the help of playwright C.E. Gatchalian, the script was made more theatrical. But what I overheard when leaving the theatre: "I guess if you know something about Wilde this might have been more interesting." But if you already know quite a bit about Wilde's life, The Masks of Oscar Wilde offers little that is new. It relies heavily on The Happy Prince, a story written by Wilde for his children and possibly the least representative of Wilde's tremendous wit – what we love most about him. And it's heavy on the trials about which better plays have been written – notably Gross Indecency by Moises Kaufman. The staging, directed by Amanda Lockitch, however, is imaginative as are the performances by Sean Harris Oliver and Tamara McCarthy.