Posted September 12, 2015.  All info available at vancouverfringe.com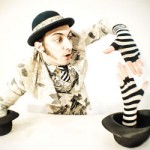 Spookeasy
At Waterfront Theatre
September 14, 16, 19 and 20
Clay Mazing and Jasper Patterson don't spook easily: half their props didn't make it across the US border (although a bunch of fake pistols and a pair of bullwhips did.) Their tech guy was new to the show so the lighting cues were often random. But Mazing and Patterson more than rose to the opening night challenge and it's possible the show was even funnier than it might have been. Funniest line? "What's a guy without a gun?" "A Canadian?" Some a-Mazing bullwhip work, damned fine singing by Patterson and fascinating Japanese puppetry.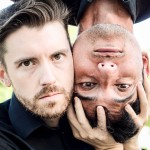 Chris & Travis
At Carousel Theatre
September 13, 14, 16, 18, 19 and 20
Improv: why do they do it? Adrenaline junkies, I guess. Every night will be different but every night will be on-the-edge-of-disaster craziness. Their first show opened with one of the best audience engagements ever. I won't spoil the fun on the chance it happens every night; it's super-funny. Chris Ross and Travis Bernhardt are quick, lively and very fast on the draw. Never an "uh" moment.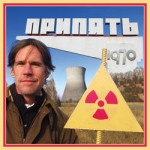 The Exclusion Zone
At Waterfront Theatre
September 12, 13, 17, 19 and 20
Brooklyn's Martin Dockery is back with his frenetic body language, gesticulating spidery fingers and the voice that peels wallpaper: a storytellers' storyteller. This time he's inspired by Geoff Dyer's book Zona that in turn is about Stalker, a Russian film. The book, apparently, is so much about nothing that it becomes "something". Somehow, Zona enticed Dockery to go to Chernobyl last October and into the 1000 square mile Exclusion Zone where nothing ever happens anymore. It's always an exhausting but exhilarating ride with Dockery; he's a one-man nuclear meltdown.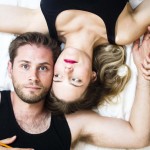 Shake The Sheets
At Carousel Theatre
September 12, 13, 14, 16, 17, 18 and 19
Written by Mack Gordon and featuring Gordon and real-life partner Kaitlin Williams, Shake The Sheets came as a big surprise. With that cast and that title wouldn't you expect a romantic little comedy? Not so. Those sheets are on a bed in nightmare land in which the wife suffers night terrors. What does it all mean? Well, I don't know. Between constantly shifting levels of reality, I was just as lost as the wife. But very enthusiastic performances by this young, engaging couple.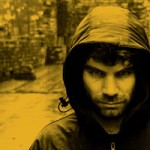 Fire in the Meth Lab
At Waterfront Theatre
September 12, 13, 16, 18 and 19
"Meth can save your life". Australian writer/perform Jon Bennett will have you agreeing in this fast, furious and very funny show about addiction. It's all about his older, bullying brother Tim and the various addictions that kept him in and out of prison. You'll laugh out loud but Bennett ends up making an inspiring, generous-spirited message: Tim's last addiction – I won't ruin the surprise – keeps him calm, happy and safe and that's all Jon wants for the brother whom he, surprisingly, deeply loves. Terrific show. See it.
Posted September 13, 2015. All info available at vancouverfringe.com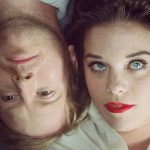 Oh The Humanity, And Other Good Intentions
Firehall Arts Centre
September 14, 15 and 16
Written by Will Eno, this is a biting, witty script that puts the characters – played by Maryanne Renzetti and Brad Duffy – in tight situations, including a coach explaining away huge season's losses to the media ("I could not coach a gallon of water out of a paper bag."), and a couple of lonely souls being video-ed for a dating service. Lots of room for versatility in performance and both performers really deliver the goods. It's episodic but all five scenarios hold together thematically.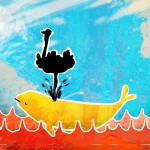 Faroe Islands + Ostrich
Arts Umbrella
September 13, 14, 16, 17 and 19
With all of us sweating in the tiny, hotter-than-hell Arts Umbrella venue, it's hard to assess Faroe Islands, the third in the Nicolas Billon trilogy (Iceland, and Greenland). I learned nothing new: an idealistic activist's hopes are dashed when her friend betrays the cause: "They're only whales". Yeah, that's how it goes. Ostrich, the second piece, was written especially for this production and Billon shows us the ugly, dark side of the equation. Yeah, we know. We drive cars and feel guilty at the gas pump.

The Birdmann in Momentous Timing
Performance Works
September 13, 14, 17 and 19
See it. Don't miss it. Australia's Trent Baumann creates a unique, quirky world in which Birdmann looks for love but accepts that, maybe, we don't need love, "we just need stuff". It's 21st century vaudeville with a Post Modern twist. A huge reveal at the end will fill you with joy and laughter. Baumann is one of a kind and the show is what every Fringe performer in this particular genre aspires to. I'd see it twice but would feel greedy depriving someone else of the great pleasure. Oh, what the heck, I'm going to see it again.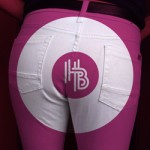 Hip! Bang! Presents WHITE PANTS
Improv Centre
September 13, 16-20
Hard on the heels of The Birdmann, WHITE PANTS disappoints. Tom Hill and Devin Mackenzie are a couple of young guys with some funny sketch comedy material – the least of which is an extended riff on butt holes. Who cares? Hill and Mackenzie are bold, they're brave and if you're college-age and have a drink in front of you, Hip! Bang! Is probably really funny.
Posted September 14, 2015. All info available at vancouverfringe.com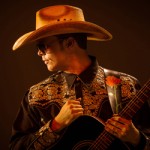 Nashville Hurricane
At the Revue Stage
September 14, 16, 18 and 19
Chase Padgett (6 Guitars) marries guitar virtuosity and storytelling in this not-to-be-missed show. Spontaneous and 100% standing 'O' the night I attended. How this young-ish white guy can look like a ginger-haired genius somewhere on the autism spectrum, a self-serving manager, a tattoo-artist mother and an old black blues guitarist is amazing. The guitar picking alone is a storm of hurricane proportions. The story is funny and sad and ultimately uplifting: we are all miracles of chance, and the  probability of it all coming together is infinitesimally small. Grab the opportunity, pursue your passion. That's exactly what Padgett is doing.

Peter n' Chris Present: Here Lies Chris
Pacific Theatre
September 16, 17 and 19
A banana peel on stage presents the possibility of someone breaking his neck. But does Chris (Chris Wilson) die? Oh yeah. Over and over and over again at the hands of Peter (Peter Carlone). Is it funny? Oh yeah. These award-winning stand-up comics are smart and the show is Pythonesque in its creativity. Funnier than a used band-aide sticking to your upper lip in a public swimming pool – an actual image from the show. The fourth wall collapses again and again as Carlone and Wilson discuss Wilson's recent move from Vancouver to – boo and hiss – Toronto. Highly recommended.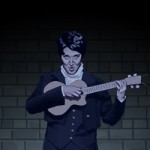 Edgar Allan
Revue Theatre
September 15, 16, 19 and 20
Poe would probably like the way this Katie Hartman/Nick Ryan (The Coldharts) show out of Brooklyn looks: it's elegant.  Dressed identically in white shirts and tails, Hartman is thirteen, rebellious and egocentric Edgar Allan while Ryan is also thirteen, but quiet and respectful Edgar Allan. Alter ego? Unfortunate duplication of name in the same classroom at Manor House School? Hartmann sings and plays the ukulele beautifully but is generally over-the-top in her performance. Poe would, I suspect, not take kindly to looking quite so clownish but would love the macabre elements.
Posted September 17, 2015. All info available at vancouverfringe.com

Saturn Returns
At Performance Works
September 18 and 19
Nine articulate, gutsy women tell us how they got to where they are – even if where they are isn't where they  thought they'd be or where they want to be. "Get a better boyfriend" is a recurring theme – maybe a guy that has more going for him than his feet looking good in tennis shoes. Paired or single, straight, gay or bi, they're working through life, death, disappointment, moving on, getting ahead and wondering if they had it to live over, would they make the same mistakes? Sarah Dawn Pledge worries she'd "fuck it up again" but Jenn Griffin, always the one to cut through the crap, assures her, "You'd just fuck it up differently." Narrated by Ellie Harvie, this show comes straight from the heart  – and the funny bone.
Posted September 21, 2015.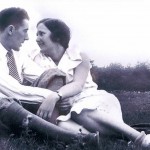 Spilling Family Secrets
Havana Theatre
No more performances
Playwright/performer Susan Freedman and I both came of age when a young woman, not married by twenty-one, was (we passionately believed) doomed to be an old maid. Throngs of us rushed headlong in the 50s and 60s to the altar, recognizing only later that we were children with no idea what marriage was all about but expecting, nevertheless, to be blissfully happy. In Spilling Family Secrets, Freedman goes back and forth from her own story of a couple of failed marriages, to the story of her parents, Brownie and Sam Freedman, whose letters – preserved in a shoebox by her mother – attest to their unconditional love for each other. It's a gentle, generous and humorous 'then and now' commentary on the way things used to be and the way we thought our own lives would work out – not realizing that it was going to take work. It took Freedman, an appealing performer with a great sense of timing, three marriages but she did finally get it right. With terrific archival slides of Brownie, Sam and herself over the years, she also gets it right in Spilling Family Secrets.