Posted September 8, 2017. All info available at vancouverfringe.com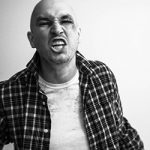 Executing Justice
At Revue Stage
September 10, 12,13, 16 and 17
Executing Justice, written and performed by Bill Pats, is executed with the precision of a hanging – and just as horrifying. Don't see this for a good time; see it because it's provocative, political and relevant. According to polls, more than sixty percent of Canadians favour a return to capital punishment; if you are one of those, you won't be after experiencing Executing Justice. The show focuses on the last hours of fictional Daryl Kane, convicted cop killer, who is about to become the first person to be executed in Canada in 68 years. Kane was just a normal kid who, through tragic circumstances, ended up in the foster care system. Things went from bad to worse and now he's on Death Row. "It's fun to kill somebody", Kane begins. Don't believe him. Pats' performance is so authentic you'll believe every word of it; you'll think he's really Daryl Kane. A shocking reveal will catch you off-guard and leave you questioning everything you believe about murderers. Outrageously good theatre.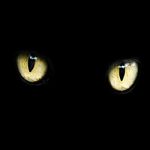 Bombay Black
At the Culture Lab at The Cultch
September 9-11, 13 and 16
There are times at the theatre when I feel so outside the culture depicted, that I can't find my way in. Despite three powerful performances – Agam Darshi as the exotic dancer Apsara, Nimet Kanji as Apsara's vengeful mother and Munish Sharma as "the blind vegetarian" who pays 3,000 rupees to 'watch' Apsara dance – the play's magic realism and mythic nature kept me from full engagement. Betrothed at the age of three to Kamal, age ten, Apsara causes him to go blind the moment he touches her. Outcast by the superstitious Indian villagers, Apsara and her mother leave the village, Kamal and Apsara's father, a high-ranking priest. Bombay Black, written by award-winning Anosh Irani, is full of pithy comments on life but it's also heavy on metaphor.
Posted September 9, 2017. All info available at vancouverfringe.com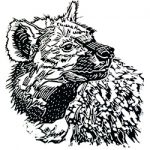 Hyena Subpoena
At Studio 1398
September 10, 11, 14-16
"If I could be a hybrid species," says writer/performer Cat Kidd, "I'd be half hyena, half me". What she is is a prodigious talent: a spoken word artist extraordinaire, lithe as a tigress, fierce as a lioness, almost predatory as a performer. And what does the hyena have going for it? It cleans up what other predators have left behind much like, she says, East Van squatters and dumpster-divers did back in the 80s before Safeway put locks on its garbage bins. In half a dozen poems/meditations on our dog-eat-dog world, Kidd moves from the predators of the African savannahs to the rape of a 13-year-old girl on her way home from school and the slagging of Mr. Kestrel, her art teacher, because he was 'different'. Never bogging down in darkness, Kidd suggests the antidote to despair is levity – "making light" – but not without the awareness of predators of all stripes, including and especially mankind.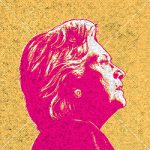 Just Not That Woman
At Firehall Arts Centre
September 9, 11, 13, 15 and 16
Australian writer/performer Ali Kennedy Scott was, like most of us, certain Hillary Clinton would win the election. So certain was she, she came to the US to be part of what she thought would be a huge celebration. She ended up giving hugs – all she could do – to tearful Democrats. In this solo show, Scott unravels the many reasons Clinton failed and none of it is news to us, having been through it ad nauseum over the weeks following the big upset. But she packages it imaginatively as part magic show, part drama – pointing out the similarities between Trump's strategy and the magician's techniques to "baffle" and "bamboozle" us, including psychology, creating a narrative, the power of suggestion, fulfilling expectations, showmanship and creating a lasting impression. Hillary was Trumped at every turn. Best part of this show? Scott's personal admission: "I'm Australian. I can't even vote [in America]. I'm embarrassed at how much I cared." It will be harder than pulling a rabbit out of hat to oust The Donald but when it happens and if a female president is ushered in, Scott will be there handing out hugs.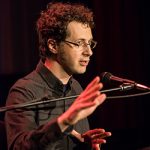 Roller Coaster
At Firehall Arts Centre
September 9, 10, 15 and 16
I have almost nothing in common with award-winning writer/performer T.J. Dawe. I have never seen Star Wars, never read or seen anything of Harry Potter, read – as a kid – Archie not Marvel comic books and I hate roller coasters. But T.J.'s so smart, so engaging and entertaining as he ricochets from tangent to tangent, that I'm completely caught up and taken on a ride that is not as scary as a roller coaster but much more interesting. At seventy-five minutes, this show is too long. And some will argue that it's a blatant 'call to arms'. Well, why not because what I do have in common with T.J. is a current of anxiety underscoring my life – much of which is the feeling that the world is going to hell in a Wal-Mart shopping cart. In Roller Coaster, T.J. suggests that Orlando, Florida – home of the Harry Potter Theme Park – is a microcosm of America. But the most important thread is an exploration of the ways in which Trump's presidency might work out: the good, the bad and the ugly. The best of these scenarios is the one in which "this mass of people starts rising up", checking facts, petitioning, volunteering, and running for office. Rabble-rousing? A call to arms? Why the hell not?
Posted September 10, 2017. All info available at vancouverfringe.com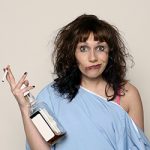 Katharine Ferns Is In Stitches
At Performance Works
September 10, 13, 16 and 17
Bad things have happened to Ferns (sexually assaulted by her babysitter and, later, her art teacher) and she has made some bad choices (hooking up with Ninja Mike who beat her up), but Ferns turns it all into fodder for stand-up comedy. And stand-up is good for her: one of the beatings she took resulted in a tailbone injury that left her in constant pain. The doctor's advice? "Don't sit". She ended up taking twenty-two painkillers/day for eight years. Ferns is an animated performer, delivering both serious and funny material at breakneck speed. The show is like having a drink with a friend who talks about his/her recent surgery – only it's funny. Standing up is what Ferns does; she is going to go back to her small town in Alberta and do this show, outing the police and lawyers who let Ninja Mike out on probation, her mother who blamed young Katharine for the sexual assaults and all the townspeople who stood by and did nothing about the bad stuff going on in their small town. Standing up: good for the soul.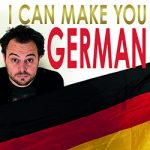 5-Step Guide To Being German
At Performance Works
September 12, 13, 15-17
"Wanna be German?" asks Berlin's Paco Erhard. Well, not really. Erhard rubs our noses – and his nose – in the German stereotypes: loud, rude and well organized. Well-organized to a fault, says Erhard. There are no sacred cows in this show. Could the equivalent of the Holocaust happen in Spain? The Spaniards, says he, are too lazy for genocide. The Italians? All they can organize is crime. There aren't just five steps to being German; the ways are countless although if you're "anal" or "pedantic", you're already too German to begin with. He mocks the Brits who ruled the world long before Hitler decided he wanted to rule the world. The good news is that Germany has now passed a law making "war of aggression verboten". North Korea: take note. Erhard works up a sweat and you will, too, just keeping up with his face-paced, take-no-prisoners delivery.
Posted September 12, 2017. All info available at vancouverfringe.com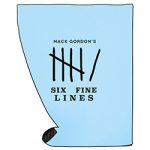 Six Fine Lines
At Carousel Theatre
September 13, 14, 16 and 17
Playwright/solo performer Mack Gordon describes Six Fine Lines as a "lyric essay" and that's apt. There's poetry, conversations with imaginary Sarah who has just broken up with Robert, ruminations on life including "overtakelessness" – a circumstance that cannot be gotten around, a couple of game shows including The Newlyweds and prizes. The night I attended, the couple chosen to be the newlyweds were actually Gordon's parents Ken and Deb, married 39 years. It was risky and pretty darned funny; he truly did not know what Mom and Dad were going to say. Gordon simply opens his heart to the audience and puts all his worries on display: primarily, with no rules, how does he know how to live? Eventually he comes up with six guidelines including being content in the moment. "There are no rules but the ones you make. So make them good ones," he humbly advises. Gordon is one sweet young man whose struggle to find himself echoes all the doubts we had in our twenties and thirties. After that, most of us simply got on with bumbling through, knowing – as Gordon reminds us – " Nobody gets it right".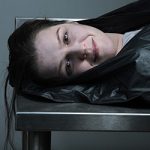 Everybody Dies in December
At Studio 1398
September 12, 14, 16 and 17
Another solo show. Another interesting concept. Creator/performer Nancy Kenny is Claire, a mortician, who's a loner. Well, she has lots of company but they're all dead. We meet her in the embalming room where she talks to the corpses, tells them they are beautiful and that she loves them. But she's having difficulty telling Travis, her living, breathing, ex-lover, that she loves him; Claire is clearly broken. With the arrival of each body, we learn a little more about her, the family business, her parents and grandparents, the boys who bullied her at school. There's lots of mortuary humour ("You've changed", she says of the newly-delivered body of someone she knows, "obviously"). And there are some grisly details about draining blood, stitching mouths closed, injecting formalin into the body; it's enough to make you choose cremation. Kenny's delivery is wry, well modulated, almost soporific, so don't see this one when it's past your bedtime or if you're planning to die sometime soon.