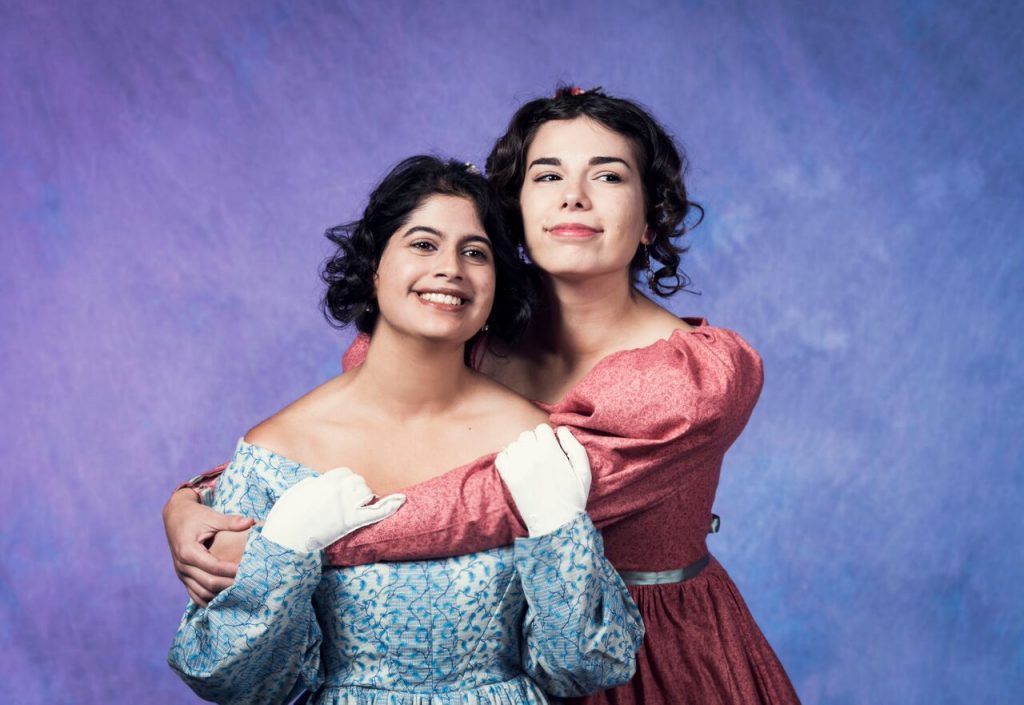 At the Frederic Wood Theatre until November 25, 2017
Tickets from $11.50 at tickets.ubc.ca
Posted November 12, 2017
No contest: the star of this show is the set/light/projection design by Harika Xu and Vanka Salim. A number of scrims drop down on which are projected changing images of full-blown peonies, yellow daisies, bright red winter berries, falling snow, sleeting rain, flaming fall leaves, dark silent woods. The images also appear as the backdrop with the scrims arranged and re-arranged in front. The effect not only shows the passing seasons but it is breathtakingly lovely. Just when you think it can't get any better, the projection changes and you catch your breath again. Chances are pretty good that Xu and Salim have studied with Robert Gardiner, indicated in the program as Projection and Lighting Design Advisor. Gardiner is and always has been one of the most exciting teachers/designers in the UBC Theatre department. Full credit, however, goes to Xu and Salim for this loveliest of designs.
Except as an excuse to produce a period piece with costumes by Liz Gao, and a nod to mid-19th century feminism, I have difficulty understanding why UBC Theatre would mount Wives and Daughters. Directed by Courtenay Dobbie, recently returned to Vancouver from a seven-year stint as Artistic Director of Caravan Farm Theatre where she directed half-a-dozen rib-tickling, knee-slapping shows (like The Notorious Right Robert & His Robber Bride), I would have expected something sparkling. But, in spite of this youthful and enthusiastic student cast, I kept wondering, why bother with this script?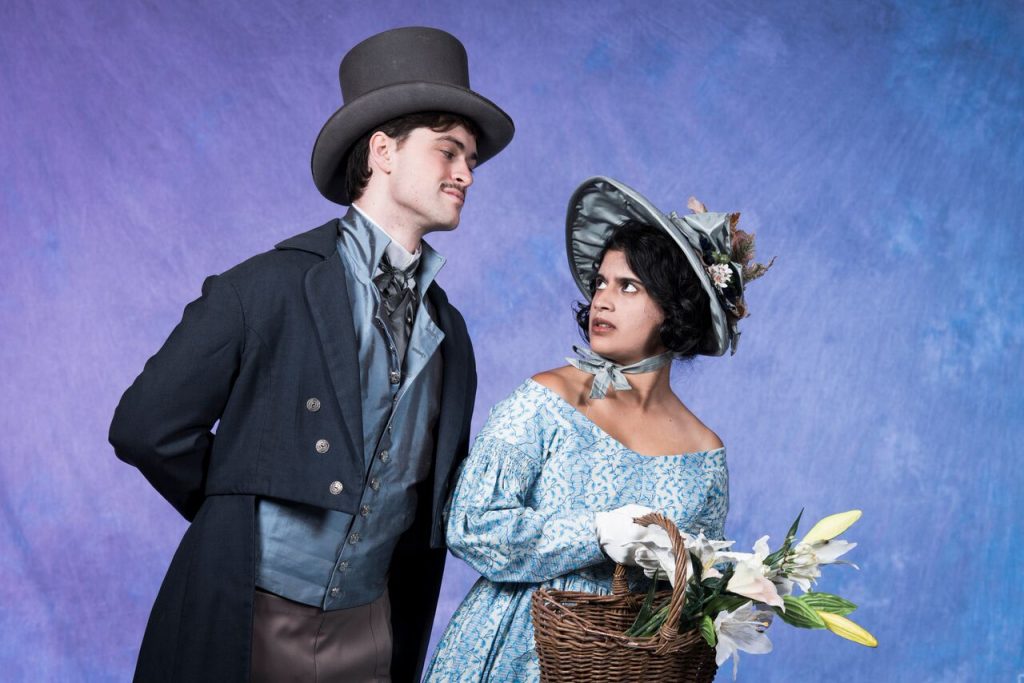 Adapted by Jacqueline Firkins from the unfinished 1865 novel by Elizabeth Gaskell, it presents Molly Gibson (Sabrina Vellani), an irrepressible young woman with a healthy curiosity and a strong commitment to telling the truth, a point she makes repeatedly.
Molly's mother has died leaving Mr. Gibson (Jed Weiss), a medical doctor, widowed. Raised by two gossipy old maiden aunts, Dorothy (Heidi Damayo) and Phoebe Browning (Shona Struthers), Molly is content but her father laments the fact that his daughter has no mother. Unaccountably and against Molly's wishes, he marries shallow, domineering Hyacinth Kirkpatrick who comes into the marriage with an irritating, troublesome daughter, Cynthia (Daria Banu). Apparently, all men fall for Cynthia – although why is a mystery: she's superficial, stupid, flighty and she wouldn't know the truth if it ran over her in the street.
One of the men that Cynthia attracts is Molly's best friend Roger Hamley (Louis Lin), a young scientist who is described as 'brilliant'. Apparently, this character is based on Charles Darwin, Gaskell's cousin, but in this production he just seems silly, following Cynthia around like a lovesick puppy. Molly is heartbroken because Roger has abandoned her; we know she's worth a sack full of Cynthias.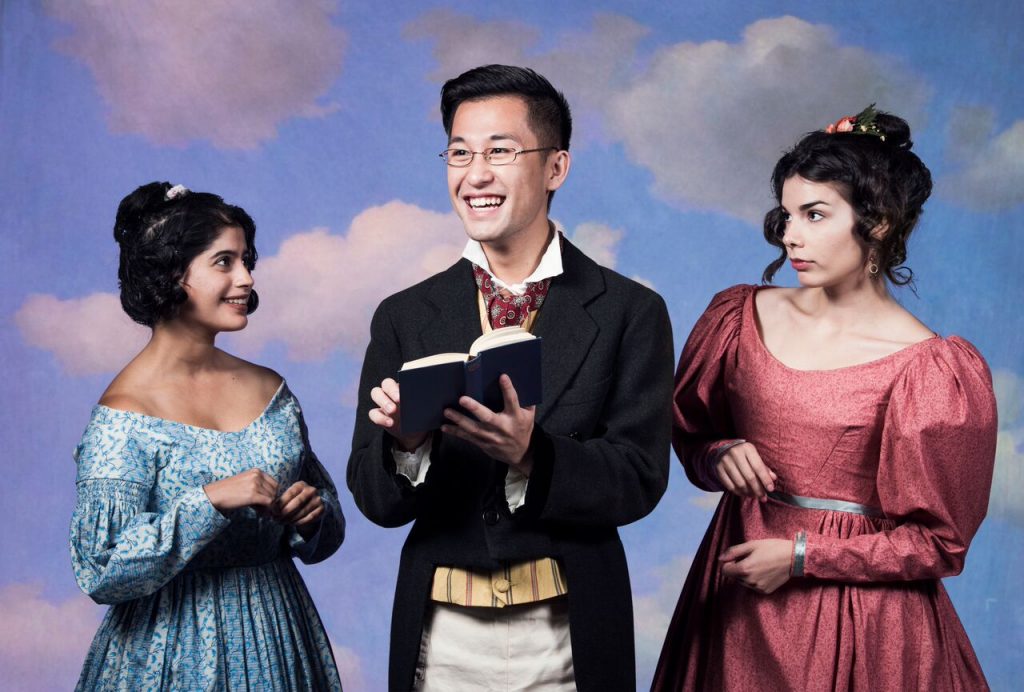 Dobbie gets fine performances from this student cast. Aidan Wright doubles as Mr. Preston and a fiddler while Olivia Lang doubles as Lady Harriet and pianist. Together they provide musical accompaniment that gives this production some lift.
The most animated scenes are between earnest Molly and silly Cynthia, who flops herself down everywhere and generally behaves like a petulant four-year-old. Vellani and Banu bring lots of energy to their roles but the story seems like one we've seen before. Novelist Gaskell's father was a Unitarian minister and Wives and Daughters' major theme is how failing to tell the truth has disastrous consequences. To be fair, I attended on second night – infamous for taking the wind out of everyone's sails after opening night.
But the design concept is grand. Xu and Salim are two young theatre artists to keep an eye on and, once finished their UBC studies, should find themselves in demand. Molly Gibson would be delighted to know that a hundred and fifty years after Gaskell created her, women have the opportunity to pursue dreams beyond the drawing room and marriage to gullible ninnies.