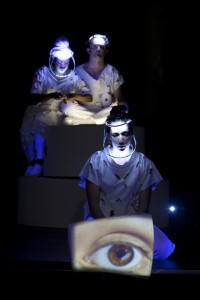 At H.R. MacMillan Space Centre until June 29
youareverystar.brownpapertickets.com
Posted June 16, 2013
This eagerly-awaited offering from Electric Company Theatre is so far from what I anticipated that the day after opening night I'm still in a state of disbelief.
I expected You Are Very Star, on location at the H.R. Macmillan Space Centre, would be lights and lasers and everything spacey and hi-tech. But the first hour – after we opening nighters, clutching hand-drawn 'maps' and milling around the foyer in a state of confusion for ten or fifteen minutes – was spent in the lower level auditorium where creative writing professor 'Dougie' (Michael Rinaldi) goes off on spaced-out tangents in front of his students Rachel (Dalal Badr), Winnie (Kathleen Duborg), Esther (Marsha Regis) and Frank (Chirag Naik).
The date is December 21, 1968 at 4:55AM and Apollo 8 is just about to be launched. But due to the power being turned off by the building custodian (Patti Allan), Dougie misses the televised take-off. A fight breaks out and we go whirling back ten minutes, then ten days earlier, six weeks prior, three days earlier. A puffed-up Earle Birney (Allan again) makes an appearance, Dougie tries to seduce the already pregnant Winnie, Esther goes on a rant about how stupid the class is and I'm so lost. Best lines from the first hour: "The Georgia Straight is looking for reporters comfortable with obscenity" and Patti Allan (as Earl Birney) announcing, "I'm all into women stepping into men's roles."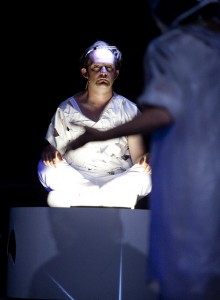 After a twenty-minute 'Interlude' during which we are encouraged to complete 'stations' (like sticking your hand in a bag to 'feel' your 'personality) we climb three flights of stairs to the big dome. Best part of the stations: skyping with a woman who, after telling her how old you are, is supposed to recount what she had been doing when she was that age. Turns out she and I were exactly the same age so we talked about dogs.
Up, up to the Big Dome. Starry skies. Three hundred and sixty degree horizon. Comfy tilt-back chairs with legroom that goes on forever.  It's now 2048; humans are 'augmented' – they can read minds. Communication with old, 'pre-augmented' Starr (Allan in clear plastic raingear and carrying a clear plastic umbrella) is difficult because language as we know it, seems to have gone extinct. Who needs it when you can read minds? Actor Rinaldi has become Neil, Ava's dead (I think) father (I think). But no, he comes back to life. I guess in 2048 everything is possible.
My guest, discovering I've fallen asleep, is just about to nudge me awake when I come to. Soft reclining seats under a huge star-filled sky will do it to me.
Best thing about this part of the program is the emergence of Harold, the gigantic star-projector from deep in the bowels of the planetarium. He rises, turns slowly and the dome fills with stars and asteroids streaking across the sky. Oh, if only the music had been Pink Floyd I would have gone hurtling back, back in time, to my younger, firmer self and to a concert of truly cosmic proportions.
Part One, written by Craig Erickson with story development by Kevin Kerr, is called Orbiting the Cusp of Greatness. The Interlude is created by Georgina Beaty (with Kerr, Naomi Sider and Veronique West). Part Two, Transcendence, is written by Kevin Kerr with Sarah Sharkey. David Hudgins directs.
You Are Very Star is, apparently, the name of a song by the Rheostatics; Rusty Ford, featured for what seems to be a very long time in a video clip, is a self-taught, amateur guitar player of whom I've never heard.
Sorry, Electrics, but except for the fantastic online promo at http://yavs.electriccompanytheatre.com/, I fear you've experienced a power failure.